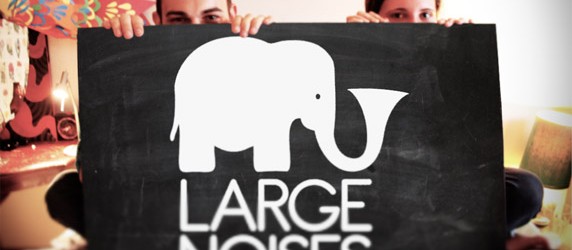 Big Scary
26 July 2011
Bedroom, Melbourne
Microwave Pizza
I first heard about Big Scary whilst sipping on a beer at the Great Britain in Melbourne watching Tom Budge perform a mind blowing set.  Sat next to singer Tom Iansek and drummer Jo Syme, they oh so casually told me about a band they'd started.  Soon after I found myself at Lentil As Anything for their EP launch.  Playing to a small group of people and selling their "The Mini EP" (2009) for all of about $10, I fell in love with Big Scary.  I described Iansek's voice as an immense combination of Bono, Matt Bellammy and Jack White.  A compliment.
Skipping forward to 2010, I strolled through the city listening to their hit single "Falling Away" on repeat for a good 45 minutes.  Tom's sweet, soft voice singing the lyrics, "They say it's fractions and wholes, they say it's pushing a stone up a hill and let it roll, they say it's pleasure and pain, they say it's freedom again, do we know now?" is enough to make anyone feel.
When we shot Big Scary for Large Noises, Iansek admitted he'd never been to a festival before.  One month later, not only had he been to a festival, but he was playing one. One of the most renowned festivals in Australia – Falls Festival.
The chemistry between Tom and Jo is beautiful, their humble nature is what makes them so attractive.  Their music is sensational; eclectic.  If you haven't had a chance yet, go marry Big Scary.  You can buy their tunes via their website.
Check out Tom Iansek's solo project "Dads" here.  His song 'Life, Oh Life' was  (unsurprisingly) the featured song on Triple J Unearthed earlier this year.
Big Scary's album is due to come out in October, 2011.
Words by Charlotte Abroms.