Large Noises was founded by Charlotte Abroms, Eliza Hull and Jono Steer over a drink one sunny afternoon. We decided to start a website dedicated to the artists who make us tick. This is it.
You can send music submissions or cute messages to us via the Contact page.
Charlotte Abroms
Charlotte is the Director of Large Noises and a music manager. She gets a kick out of capturing bands and artists before they break. Large Noises is an excuse to record and watch live performances of Charlotte's favourite artists and hang with her BFF's. She doesn't usually dress like this, she was going to a Hawaiian themed party.
Eliza Hull
Eliza is a Co-Founder and Producer at Large Noises. When Eliza's not playing on a stage and recording her music, she's scouting new talent, hooking up shoots and writing for Large Noises. We may have convinced her to do a few Large Noises shoots herself. She also wanted us to let you know how much she likes strawberries.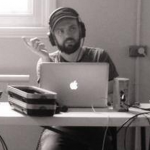 Jono Steer
Jono is the Audio Director of Large Noises, he loves recording bands in unique locations and capturing the surroundings. He's also a musician, a producer, a front of house engineer and he's 50% of electro duo Haarlo. No one has ever seen him without a hat on.